One of the most inventive and beautiful art genres of our time is the digital space art. If you are passionate about space, science, planets and stars, this list of brilliant space Photoshop tutorials will definitely appeal to you!
For the majority of the tutorials in this list, you won't use any stock photos or any material at all besides Photoshop filters, effects and blending modes. This will also help you to enrich your Photoshop knowledge. You will create a vibrant and lifelike images of space, planets and stars with tools found in Photoshop.
For most of the effects needed in order to create these images, you will use the brush tool, layer effects and the filter gallery. You may want to set aside an hour or two before starting any of these space Photoshop tutorials, because they require quite a bit of work to accomplish. But don't worry – your hard work will pay off and in the end you will be a Sci-Fi & Space Photoshop expert.
Let's get those creative juices flowing and let's get started.
In this tutorial, the author will show you the steps you have to take in order to create this detailed meteorite and surrounding space environment in Photoshop. This is an intermediate level tutorial, but beginners may try it as well if they want to learn some tricks!
Create this gorgeous sci-fi inspired cosmic space scene in Photoshop! This step by step walk-through will guide you from the making of the planets, to the vibrant nebula and bright lens flares.

In this Photoshop tutorial you will learn how to create an image of outer space. If you're passionate about science, space and sci-fi movies, then this tutorial should make you really happy.
This great tutorial will show you the steps needed to create an awesome abstract nebula circle shape in Photoshop.
This awesome tutorial is part of a 4-part series of tutorials about space, living on other planets and all things sci-fi. Learn how to depict your own cosmic scenery, by following this tutorial.
Learn how to create a realistic looking outer space image in this Photoshop tutorial. You won't be needing any stock photos or any material at all besides Photoshop filters, effects, and blending modes.
Passionate about stars and planets? Then you need to learn how to create a cool eclipse effect in Photoshop!

Learn how to create a red giant star in Photoshop! This tutorial also includes about an hour of video instruction to help you along the way.
In this tutorial, the author will walk you through creating a spectacular space scene featuring two planets colliding. Doesn't this look awesome?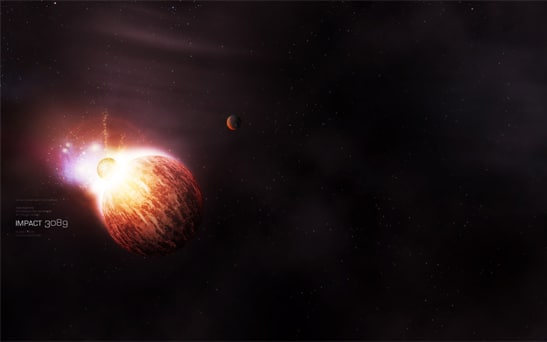 This intermediate level Photoshop tutorial will teach you how to make planet, star and meteor impact in Photoshop in a quick and effective manner.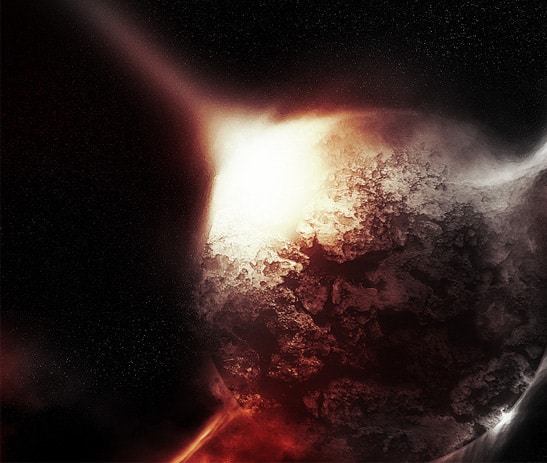 This tutorial is about creating space landscape in Photoshop. It is not difficult and it will teach you how to create a solar eclipse in space.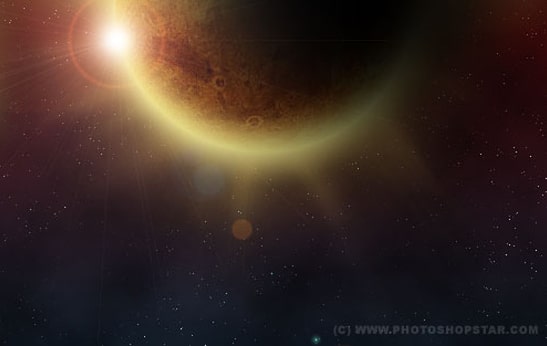 Learn how to create planet rings with Photoshop in 8 easy steps! This tutorial will guide you through all the steps needed in order to recreate this cool effect.
In this intermediate-to-advanced-level design tutorial, you are going to learn how to create a stunning space scene that has realistic-looking planets, stars, and lighting effects using a few innovative Photoshop techniques and some textures.
Learn how to easily create a planetary ring and how to use the Cloud and Twirl tools in Photoshop. The steps are very simple and if you have some experience with Photoshop, you should be able to complete it without any problems.
Create awesome, dreamy planets with this great Photoshop tutorial! All the explanations needed are provided in this tutorial.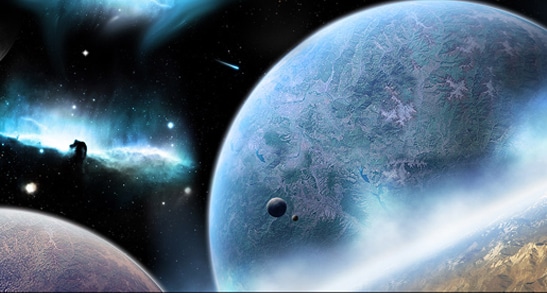 Create a very easy eclipse effect in Photoshop! Learn how in this step by step tutorial.
This tutorial will show you how you can use images in order to create awesome space images.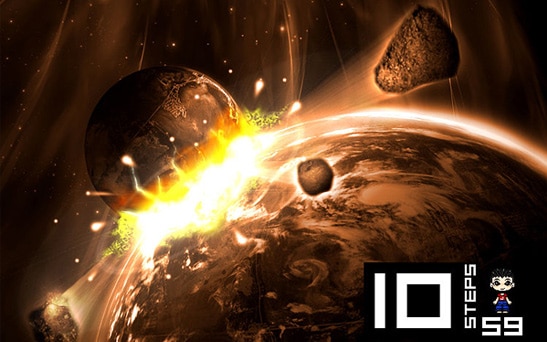 Create a dark, interesting space environment with this step-by-step tutorial. The explanations are easy to follow and you should learn how to do it in no time!

This tutorial shows you how to create your own space scene using stock photos and Adobe Photoshop.
Create a mesmerizing nebula with this Photoshop tutorial. Learn how to do it yourself by following this author's easy steps.
This completes our list of 20 hand-picked Photoshop tutorials for space and sci-fi related projects. If you've found these tutorials helpful, say something in the comments below!
The post 20 Brilliant Sci-Fi/Space Photoshop Tutorials appeared first on Line25.