In today's article, we are going to round up the best free Shopify themes available in the Shopify theme store. Shopify allows you to quickly and easily create an eCommerce website or online store. Both premium and free Shopify themes come built in with all the features you need, such as credit card processing and a very powerful back-end. While there are many free Shopify themes, Shopify itself is a premium platform due to the plethora of powerful features it offers, as such it requires a low monthly subscription cost. This ensures that there is a development team constantly developing the software on which your online store runs, and because the fees are more than reasonable, Shopify is an online sales platform that is widely recommended. Let us now look at 21 free Shopify themes available at the Shopify store:
1. Brooklyn – Brooklyn
Brooklyn is a free Shopify theme that is geared towards apparel stores – stores that sell clothes. What we like about this theme is the nice (and quite convincing) full-screen background photo at the top of the page that showcases your apparel products. We also liked this theme's clean design and a prominent call to action.
Start with this theme | View Demo
2. Pop – Toy
Pop is a free Shopify theme collection that includes a total of 2 free themes – Pop Bone and Pop Toy. What we like about Pop – Toy Shopify template is the "kid friendly" design, soft colors and a nice featured products section. The design itself is very simple, as it should be. Why make it convoluted and complicated?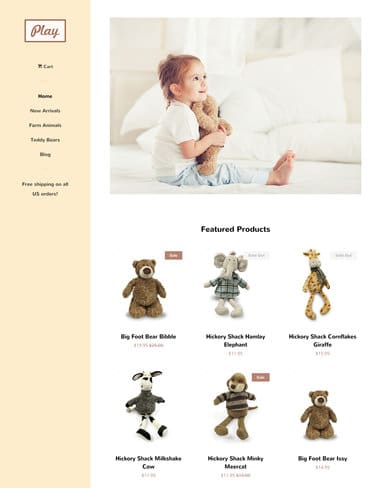 Start with this theme | View Demo
3. Pop – Bone
Contrary to what your initial impression is, Pop – Bone has nothing to do with bones – but it does have to do with improving someone's skin complexion. Pop – Bone is a free Shopify template that is geared towards pharmaceutical products. The design is very similar to Pop – Toy since Pop is a collection of 2 Shopify themes based on the same template structure. Like Pop – Toy, Bone has a simple design with a featured products section.
Start with this theme | View Demo
4. Solo – Solo
Solo is a free Shopify theme that is made for online furniture stores, although it can be used for any other online store (and so can all other free Shopify templates). Solo jumps straight to action by featuring a product catalog of furniture without any background graphics or images. If you are wondering how to create an online furniture store, or a store to sell furniture products in a specific niche, Solo may just be your theme.
Start with this theme | View Demo
5. Supply – Dark
Supply – Dark is a Shopify template that is free to use and features a jewelry store design. This theme shows a featured banner graphic that is prominently placed for all visitors to see, as well as product categories and individual products. The dark background works well for shiny and bright jewelry pieces, making it an ideal free Shopify theme for a jewelry store. We also really liked the prominently placed "Add to cart" button on individual product pages and the social sharing buttons seamlessly built into the listing pages.
Start with this theme | View Demo
6. Supply – Blue
Supply – Blue is theme #2 out of 3 total themes included for free with your installation of the Supply theme package. Supply – Blue focuses on a photography eCommerce store as it showcases and online store selling various cameras and accessories. Supply – Blue features slider with promo banners, a thumbnail-based list of categories and several featured item lists that can be easily placed on the home page. Overall, the design is very pleasing to the eyes and carries the same benefits as we've seen in other Supply themes – such as a well placed call to action button. What Supply theme collection lacks, however, is a better way to showcase the actual product images, as there is no zoom options on product images on the individual listing pages. Despite this drawback, Supply is an excellent choice of a free Shopify theme if you are looking to create a Photography eCommerce store – or any other store for that matter.
Start with this theme | View Demo
7. Supply – Soft Green
The final theme in Supply template collection, Soft Green is a theme that features various furniture products and can be an ideal Shopify theme to make a furniture online store. As it shares the design with the other 2 Supply themes, it has all of the features that we've mentioned in Supply – Dark and Supply – Blue Shopify themes. Soft Green shows us that while the individual product pages lack a zoom option for the product graphics, you can put multiple graphics for each product you are selling. Overall, this is an excellent free eCommerce theme for your furniture website.
Start with this theme | View Demo
8. Classic – Sharp
Classic – Sharp is a Shopify theme that is well-suited for online stores offering a wide selection of products. In many ways this free Shopify template is similar to the Supply templates in its layout style and options. If you are an online business with many different products, this theme may be a good choice for you.
Start with this theme | View Demo
9. Classic – Dark
If you are into dark themes, then Classic – Dark is as dark as they get. Full dark background, with white menu links and red elements – this is what Classic – Dark offers you. Calls to action pop out due to the color contrast, and all products "shine through" as the dark background takes away any distractions.
Start with this theme | View Demo
10. Classic – Light
This theme is identical to Classic – Dark theme except the background is white instead of black, and all the menu links and other elements are made to work with the white background. The demo showcases an online electronics store, which seems to work beautifully with this Shopify theme. If you are looking to start an online electronics eCommerce business, then Classic – Light theme may just be your best theme to use.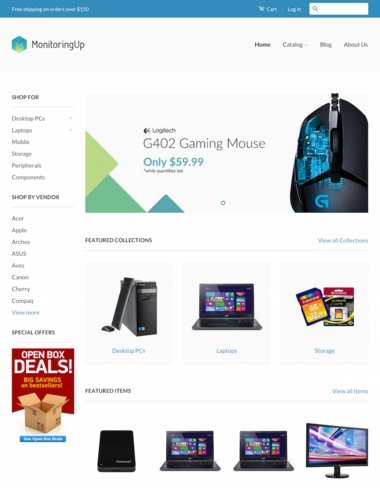 Start with this theme | View Demo
11. Minimal – Music
If you're about to start selling online music or digital items, then Minimal – Music is an excellent free Shopify theme for your store. The theme's individual product pages include the option to open a larger preview of the digital item you are selling. Overall, this Shopify template doesn't have all the bells and whistles of some other Shopify themes, but this may be a good thing.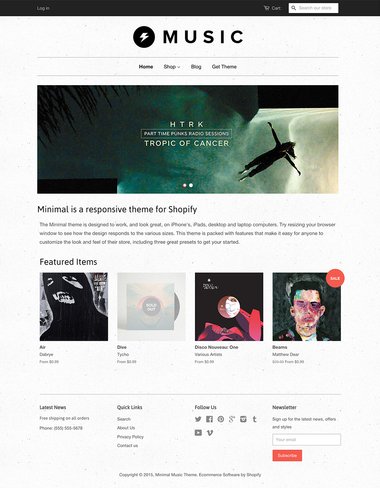 Start with this theme | View Demo
12. Minimal – Fashion
Are you wondering how to start an online Fashion store using a pre-made template? Minimal – Fashion may just be your solution here. The template is clean, fully responsive (which makes sure it renders perfectly on desktop and mobile devices), and includes multiple, enlargeable product previews. It also allows you to add a "Sale" icon to any individual listings, which is a nice touch.
Start with this theme | View Demo
13. Minimal – Vintage
If rendering beautifully across all mobile devices is your online store priority, then Minimal – Vintage is an excellent choice. This Shopify theme is free, and it looks much like its cousin, the Minimal Fashion theme. This theme has a clean, white background without any featured video or image and a featured image slider on the home page.
Start with this theme | View Demo
14. Lookbook – Retro
Lookbook Retro is drastically different from other Shopify themes we've showcases in this article. It has a fully touch-friendly design, allowing you to scroll sideways on devices that support scrolling. This allows for a beautiful showcase of your products to all of your tech-savvy customers. This full-page design focuses on the product and nothing else. Checkout is as simple as it can get. Overall, this was one of our favorite free Shopify themes in this showcase.
Start with this theme | View Demo
15. Simple – Beauty
This Shopify theme is free to use and can be a good choice for a fragrance eCommerce store. What we really liked about this theme is an option to zoom in on the product previews – a feature that was missing from most other free Shopify themes that we've reviewed. Another nice touch was that the sale pricing that was presented in a clear way. Overall, Beauty is indeed a very simple Shopify theme.
Start with this theme | View Demo
16. Simple – Light
This theme for Shopify is another simple, yet effective template that can be used for your online store. Sharing design elements from Simple – Beauty, this theme includes a zoomable product preview option and a simple website layout.
Start with this theme | View Demo
17. New Standard – Dark
If you're trying to start an eCommerce website for a winery, then this free theme may be an excellent choice for you. Featuring a dark but not black background, this Shopify template has a nice touch where you can see your cart total price on all pages of the site. All product images are also clickable so that a larger image can be opened and viewed.
Start with this theme | View Demo
18. New Standard – Sepia
Featuring neutral website colors, New Standard Sepia is a theme that neither stands out nor blends in. It has a few nice touches such as adding a "Sold out" graphic to any product to entice potential customers to buy other products, as well as a "Sale" icon when you hover over specific products.
Start with this theme | View Demo
19. New Standard – White
The final Shopify theme in the New Standard theme collection, White offers the exact same features as its predecessors Dark and Sepia. The demo website showcases an apparel online store, which seems to work pretty well in this case.
Start with this theme | View Demo
20. Kickstand – Ebook
There aren't too many Shopify themes you are going to find that are tailored specifically for selling eBooks – in fact, this theme is the only one we've found. Focusing on the sales copy and allowing you to write a lot of accompanying text, this theme also showcases any book you'd like on the front page. But it isn't limited to just 1 book and allows you to sell multiple books through your online store.
Start with this theme | View Demo
21. Kickstand – Starter
Kickstand – Starter is a nice play on words of "Kickstarter" – the popular project finding website that allows you to get others to fund your projects. If you are in early stages of your online store or your idea and you want to create a beautiful website for your upcoming product, then Kickstand – Starter may be an excellent free Shopify theme for you to use. Showcasing the number of backers and the total amount of money pledged to finding your online campaign, Kickstand also allows you to actually sell the product you are trying to fund.
Start with this theme | View Demo
This completes our roundup of the best free Shopify themes for your eCommerce store. Choosing the right platform (such as Shopify) and the right theme for your store is extremely important. Please check out demos of all the free themes listed in this article and make sure to choose the one you like best. Take action and start your online store today with one of the templates above.
The post 21 Best Free Shopify Themes appeared first on Line25.