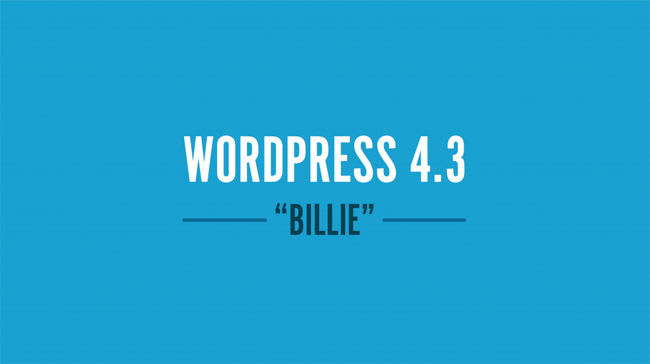 WordPress 4.3 "Billie", named after the famous Jazz singer Billie Holiday, was released on August 18th and is available for download.
Having taken nearly four months of active development WP 4.3 brings many new features to the table.
Better Customization and Security
The most noticeable addition is that menus have now been moved to the Theme Customizer so you can preview changes in realtime. The idea here is to make previewing nav changes swift and easy.
Secondly site icons, which were previously a feature contained within Jetpack, have been added optionally into the Customizer.
As a security measure WP 4.3 now supports stronger passwords by default. Clicking "Generate Password" will generate a strong password for the new user account, whereas the password reset email now contains a link to the password reset page rather than a new password.
Changes to the Visual Editor
The Visual Editor has undergone various improvements as well. You can quickly add an unordered list by typing * or – followed by space in a new line.
For ordered lists you can use 1. or 1), again in a new line followed by space.
And much like Markdown, using # variations will change the current paragraph to heading. So ## gives h2, whereas ###### gives h6, and everything in between corresponds to the relevant heading tag. Similarly the > symbol at the start of a paragraph will transform that paragraph into a blockquote.
The editor also has quick link previews. Now when you click on a link in the editor, an inline toolbar will display the full URL of the given link.
There are many other new additions as well:
The admin bar now has a revamped Customize button.
Comments are turned off for pages by default.
PHP4-style constructors have been deprecated.
Singular.php has been added to the WP template structure.
List tables have undergone API and UI changes.
Code for older DFW and theme preview has been removed.
What do you think of the new WordPress 4.3? Noticed anything else cool or unique? Share your views in the comments area below!
Read More at WordPress 4.3 "Billie" Has Been Released
The post WordPress 4.3 "Billie" Has Been Released appeared first on webdesignledger